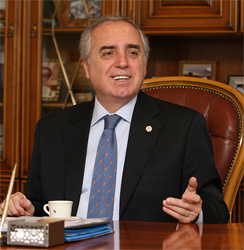 We are progressing with improvement…
As Sonmez Holding, we continue to progress on the way led by our founder Ali Osman Sonmez and by embodying innovations.
As Sonmez family, although we headed for different sectors within the recent 10 years, the textile sector, which was the first step into industry, still holds its importance for us. The machinery investments and product development activities are the indicators to this importance attached to textile by us. We supply composite sector with textiles made of carbon, glass, aramid fibers through the technical textile investments we have made to our textile company. We have been making the effort to enter into new sectors and grow in new sectors as well so as to keep step with the developing and changing world.
PARTICULAR IMPORTANCE TO CEMENT SECTOR
We closely follow the economical developments and new trends on the world and particularly in Turkey. We endeavor to conduct our analyses concerning our sectors of activity in time, and we keep efficiency and competitiveness prominent in the evaluation of new lines of work.
Our cement factory, which we commissioned last year in Adana Yumurtalik Free Zone to this end, provides service to construction industry, which is among the rising sectors of today. 85% of our production will be exported in the factory which has an annual production of 2 million tons of cement. The construction of our port, which we initiated right beside our plant which is established by the sea, is rapidly ongoing. When the construction is completed, out plant will have its own port. The port, which will prove a logistics advantage, will also add value to our Adana factory.
Tourism is another sector of particular importance for us. We reached up to the 4th hotel in 5 years. We opened two hotels in 2009. Our hotels Baiabursa and Baialara, which were commissioned after Baiabodrum and Uludag Montebaia, continue their activities with the understanding of quality service. We will continue our activities in the future in order to implement our projects for new hotels in tourism sector.
As for the logistics sectori we increasingly continue cold storage and container transportation with the new TIRs procured for Sonmez Bustas Inc.
We continue our activities in retail with our malls as well. With the aim of offering better service to the end users in Bursa, we will renovate AS Merkez as one of our future projects to be implemented.
Another subsidiary of us, which holds a particular importance for us in parallel with our activities so far in this sector is Sonmez Media. Our Bursa Hakimiyet Newspaper, for which we celebrated 41st anniversary in 2014, as well as AS TV, Radio S, Yasayan Bursa and Political periodicals and www.bursahakimiyet.com.tr news website have become and will continue to be important communication channels we have offered to the service of Bursa residents.
As it can be seen, our growth-oriented strategy continues in all of the sectors of our activity, particularly cement, tourism, textile, media, retail and logistics considering the global economical conditions.
Celal SÖNMEZ
Sonmez Holding CEO