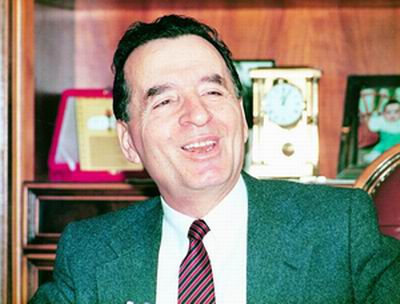 THE BACKGROUND OF ALİ OSMAN SONMEZ
Born in Mestanli Village, Bulgaria in 1926, Ali Osman Sonmez spent 7 years in Greece after completing his elementary and secondary education. Upon arriving at Turkey in 1948, Ali Osman Sonmez settled in Inegol district. Following his position as a civil servant in Tekel for a while, Sonmez voluntarily left the office so as to step into business life. Sonmez, who was occupied in importing and exporting tobacco for a while, continued his commercial activities in the field of textile. Having been the President of Chamber of Commerce and Industry for 6 terms in addition to having a seat in the municipality council during his years in Inegol district, Sonmez established his first industrial plant, Sonmez Filament Sentetik Iplık ve Elyaf Sanayi Anonim Sirketi (Sonmez Filament Synthetic Thread and Fiber Inc.) in the Organized Industrial Zone in 1972. Sonmez Filament was followed by Sonmez ASF Thread, Textile and Dye Industrial Plants commissioned in 1976. Upon having made new additions to the industrial plants as the years passed by, Sonmez eventually incorporated his companies into Sonmez Industry Holding. There are currently 27 companies in the fields of thread, textile, finishing, confectionary, import and export, international road transportation, cold storage, fresh fruit and vegetable export, private airline administration, automobile agency, food, fuel station administration, newspaper, radio, television, construction and packaging under Sonmez Industry Holding.
Ali Osman Sonmez, who was the assembly member to Chamber of Industry and Commerce for a while upon arriving at Bursa, was then elected as the President of Executive Board and broke a record in this regard through holding the office for 25 years on a continuous basis. Sonmez, who served as a member of Turkish Union of Chambers and Commodity Exchanges (TOBB) for two times in 1982-84 and also as the Council Chairman for Chambers of Commerce and Industry of TOBB for two times 1986-88 and 1992-96, has become the tax champion in Bursa for several times with his contribution of individual income tax.
Ali Osman Sonmez, who was also the Member of Parliament of Bursa in Dogru Yol Party between 1995-99, attached tremendous importance to charity as well. Sonmez built 2 primary schools, 1 elementary school, 1 Anatolian science high school, a technical education campus which incorporated 4 technical high schools, 2 student dormitories with a capacity of 400 students and granted these to Ministry of National Education; in addition to building a 200-bed oncology hospital granted to Ministry of Health and a university campus for Uludag University. As a father to two children, Sonmez knew German, Bulgarian, Italian and Romaic.
Sonmez, who demised on 12 October 2001 Friday, was buried in the family graveyard at Bursa Emirsultan Cemetery after the ceremonies held the following day.