Sönmez Holding, Kutlucan Group and Türkün Holding including also the founder and partners of  SANÇİM Çimento, which continues its sales activities in Marmara, Central Anatolia and Aegean regions swiftly, have decided to make a huge investment to cement sector determined by them to be the growth field in 2012. In line with that decision, the integrated cement factory started production under "Sönmez Çimento" brand in October in Adana Yumurtalık TAYSEB Free Zone.
The factory which was started to be constructed in 2012 has also the feature of being an environment-friendly factory not only by being designed in accordance with the current Environmental Legislation through the state of the art technology dedusting systems but also using alternative fuel and renewable power resources. Being quite near to raw material resources with its area of 413 decares and 220 employees, Sönmez Çimento is the first cement factory of Turkey which was permitted to be built in Free Zones. Besides, the factory being only 4.5 km far from the port offers the best service to its customers by availing that advantage. Sönmez Çimento will further fortify its competitive advantage with the port project estimated to be completed in early 2016.
Target markets of Sönmez Çimento consist of all world's market especially that of North Africa, West Africa and South America. Having a Portland cement product range containing different types, Sönmez Çimento becomes distinct among its competitors by producing low-alkaline cement for South America market, and low-chromium cement and sulphate-resistant cement for North Africa market.
Since October 2014, Sönmez Çimento exported clinker and cement to various countries including Egypt, Argentina, Brazil, Ghana, Libya, Congo, Cameroon, Colombia, Mauritania and Togo. Moreover, it continues to sell cement through road transportation to Syria owing to its close distance.
Sönmez Çimento will realize a production of 1.7 million ton clinker and 2 million tons cement annually, and it will make a positive contribution to our country's export targets for 2023 by exporting 85% of its sales. Sönmez Çimento will play a significant role in Turkey's cement export in 2015 as being a stable brand within its area.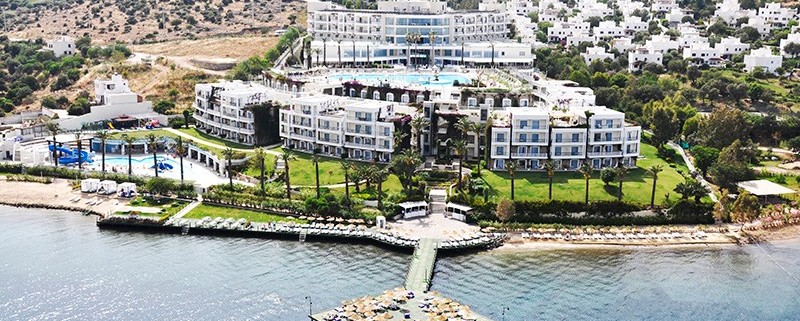 The symbol of traditional comfort and service concept of Baia Lara and Baia Bodrum Hotels has been renovated to offer our guests to provide a pleasant and relaxing stay with much better service. Comfort, Entertainment and Services are at the forefront of a new presentation, Baia Lara and Baia Bodrum Hotel, offers its guests an excellent 2015 Summer Season unforgettable holiday on experience.
Modern and compatible with the nature of the Baia Bodrum Hotel with minimalist architecture, in the heart of the Aegean Sea in Bodrum, in Gundogan.  All renovated rooms, the development of concepts, institutions, the Maximum Comfort and Entertainment for Guests, Sönmez Holding's first investment in the Tourism Sector.
Located in the popular resort of Antalya Kundu, Baia Lara with his advanced concept and renovated residential areas, it offers its guests, a downtown hotel comfort and a resort hotel concept combines both.
Sönmez Holding investments in Tourism Baia Lara, Baia Bodrum, Montebaia Uludag, Baia Bursa, unlimited comfort and continues to welcome all guests with impeccable service quality. Tranquility, the name of the pleasures of a holiday full of entertainment and Baia.

With the participation of Prime Minister Davutoglu, BTSO organized "Economy Contributors" award ceremony. Prime Minister Davutoglu said, "We are ready to grant additional incentives. Everyone should focus on R&D and innovation." At the Ceremony, Sonmez Holding CEO Celal Sonmez received award from Minister of Finance Mehmet Simsek while Sonmez Holding Management Board Member Cemil Sonmez received award from Prime Minister Davutoglu.
"Economy Contributors" awards were given to their owners with a spectacular ceremony organized in Merinos Ataturk Congress and Culture Center for the 41st time this year by Bursa Chamber of Commerce and Industry (BTSO).
At the Ceremony, Sonmez Holding CEO Celal Sonmez received award from Minister of Finance Mehmet Simsek as for the 4th place in "Income Tax", while Sonmez Holding Management Board Member Cemil Sonmez received 1st award in "Tourism" from Prime Minister Davutoglu. Sonmez Holding CEO Sonmez stated, "I am glad to have reached such a level in our city. As Sonmez family, working and producing for this city is our duty. I hope that we will receive awards in the following years as well."
Cemil Sonmez, the member of Sonmez Holding Management Board said, "We are glad and proud to receive awards at such a night. We were deemed worthy of award with Sonmez Tourism and Baia brand. We will continue to endeavor in order to improve our brand."