Sönmez-Koç Automotive Trade Inc.
Sönmez-Koç Automotive Trade Inc. was established on 22 July 1993 with the partnership of the shareholders of Kamil Koç Bus Inc. and businessman Celal Sönmez. It was moved to its new plaza building located in Yeni Yalova Yolu 9. km. on 01 January 1999.
Sonmez Insurance Ltd. Co. and Sönmez Koç General Services Ltd. Co., under Sonmez-Koc Automotive Trade Inc. which has held the pulse of Bursa automobile sector for 16 years with the slogan "Bursa Address of Ford", carry out their activities with 1300 m2 sales area, 2410 m2 service area, 1200 m2 bodywork and dyeing area, and 450 m2 spare part area totaling into 5360 m2 indoors space. Furthermore, Commercial-Mechanical service department which was opened so as to respond to the demand due to increased capacity and expanded business volume renders services beside Sonmez-Koc Plaza.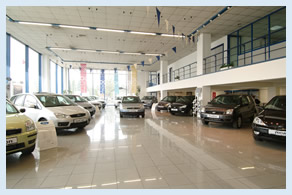 Sonmez-Koc Automotive Trade Inc. also offers the sales of Ford brand automobiles, light commercial and commercial vehicles as 3S authorized dealer of Ford Automotive Industry Inc. for sales, service and spare parts in addition to its maintenance and spare part services for automobiles and commercial vehicles with its service with a monthly vehicle entrance capacity of 1700.
Sonmez-Koc services which aim for rendering quality service in time, employ specialized staff and supply all kinds of original spare parts for reasonable prices work round the clock with its special lift system and Euroservice connection.
With an increasing acceleration in its chart of achievement in 16 years, Sonmez-Koc Automotive Trade Inc. continues its activities as one of the most reliable dealers of Ford Dealership Organization.
Sonmez-Koc Automotive Trade Inc., which has ranked in the 1st place based on the Customer Satisfaction Survey conducted by Ford European Group among 62 Ford dealers in Turkey, continues its achievements based on its service understanding addressing at customer satisfaction with The Chairman's Award 2005-1st Rank in Turkey in Ford Otosan Customer Satisfaction Survey.
Sönmez-Koç Plaza, offers high quality services to its customers with its plaza area as well as its technical equipment and the largest automobile service in the region.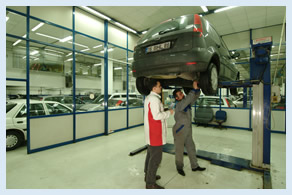 Mission: 
To maintain our leading position in the automobile sector together with our customers who are also our business partners and our employees by supporting our years of experience with our quality services rendered in time.
Vision: 
To ensure permanent customer satisfaction through maximum efficiency by means of our human resources, which constitute our greatest capital as Sönmez-Koç Automotive Trade Inc. To maintain our leading position in Bursa automobile sector by means of both customer satisfaction and annual turnover by representing Ford brand in the best manner with our strong and reliable staff, visionary and dynamic structure and by offering after-sales services to our customers.
Our objectives and principles:
. To represent Ford brand in the best manner within our region.
. To perfect customer satisfaction and to ensure full satisfaction of our customers.
. We are obliged to maintain our friendship with you which begins with the sales through the superior services we will give you.
. Customer satisfaction is our main principle and priority.
. The recommendations and evaluations of our customers will encourage us and prove as one the major factors for enhancing our service quality.
Each Ford owner is the assurance of Ford, which is a global brand.
. Our main principles include ensuring the satisfaction of our employees and improving their skills in parallel to the technological developments.
. Our behaviors should always be consistent, fair and respectful within the course of quality services we provide.
. Our determination is the best indicator of to which extend customer needs are met.
. Positive relationships and communications with our customers from Ford Otosan dealerships and Ford family will maximize our image.
Our Values: 
Administration of work performance of Sönmez-Koç employees is an essential part of corporate management. Each Sönmez-Koç employee acts in compliance with the codes of conduct in compliance with corporate rules and ethical principles which reflect a high standard of institutional and individual behaviors. We are responsible for the ethics and integrity in Sönmez-Koç Automotive Trade Inc. to the best standards. Our responsibility covers our employees in Sonmez-Koc and their families, environment, society and each individual we render service to. We never deviate from our institutional and professional framework while fulfilling our responsibilities.
Sönmez Koç Automotive Trade Inc.
Yeni Yalova Yolu 9.km Bursa
Tel  +90 224 261 22 44 (5 hat)   Fax +90 224 261 22 52