Baia Bursa Hotel offers everything expected from a quality urban hotel with its understanding of superior service and high standards for rooms as a principle and goal. In the tourism section of the values introduced to Bursa by the prestigious brand name of its founder and administrator Sonmez Holding, the 4th hotel of the hotels chain, Baia Bursa was commissioned on 1 August 2009 to fill the absence in the target market which had been observed for a very long time in addition to Bodrum, Uludag and Antalya Lara.
Baia Bursa Hotel changes the face of rapidly improving Bursa as well as adding a major value to the city which takes new steps with the image of City of Congress and Culture. Baia Bursa Hotel, which was built targeting individual and/or group accommodations for entirely business purposes, has a base area of 950 square meters and a total of 10800 square meters indoors area on 3850 square meters of area.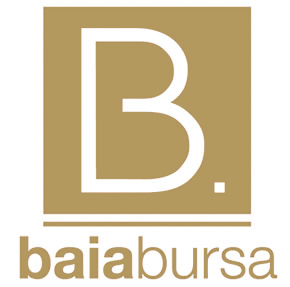 It has a total of 150 rooms consisting of 124 standard rooms with 2 connection rooms and 1 disable room, 22 executive rooms, 2 junior suites and 2 executive suites and the bed capacity of 233 consists of 67 kind and 83 twin beds. Baia Bursa Hotel has been equipped with all technologic business requirements of work while offering the comfort of a house to its guests.
Standard rooms have shower, telephone, safe box, air dryer, minibar, 32 inch LCD TV, living area, study desk in addition to several other features. Executive and suite rooms make you feel the quality and difference with service privileges such as business package, offerings of tea and coffee as well as pillow menu.
Baia Bursa Hotel is an urban hotel which will make you feel that elegance can also be comfortable with its minimalistic and aesthetical designs and want to repeat the privilege at all times.
Four Seasons Restaurant offers a selection of international and Turkish cuisine while Scalini a'lacarte restaurant is the perfect banquet for our guests who would like unique tastes of Italian cuisine with the garden view. On the top of that, Sky Bar, where the sky and city are integrated, awaits you at Baia Bursa with its different style and concept.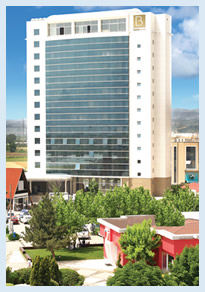 The meeting rooms which offer the luxury and comfort of the technology in a combination of boutique service understanding and professionalism provide Baia guests with the perfect working environment. Baia Bursa Hotel, which has 3 meeting rooms titled Uludag, Bodrum and Lara, changes the standards again with the modular structure of its rooms and common lounge areas.
Baia Spa&Wellness Club, which is distinguished with its professional team and being the first Health Club to offer full service in Bursa, will take the exhaustion of the day away from you. Sauna, Turkish bath, skin care room, VIP massage rooms, hot steam room, hairdresser, shock shower as well as aromatherapic types of massages will go beyond your expectations.
Hotel Baia Bursa
Yeni Yalova Yolu, 9.km near Asmerkez Osmangazi-BURSA / Turkey
salesbursa@baiahotels.com
Tel +90 224 275 45 00 Fax +90 224 275 45 05
http://www.baiahotels.com